Welcome
Investment Club: What You Should Know
What you need to know about joining or starting an investment club.
Learning to invest can be hard to do on your own. Stocks, 401(k), IRAs, bonds—all of it can be really confusing without the right help. You may have played the stock game in class, but that is only good at explaining how stocks work, not at what investments are good options.
Being young doesn't have to stop you from investing your money. In the past few years, it has become really easy with apps to buy stocks.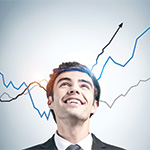 Even though it has become easier to do, that doesn't mean it's become easier to know what you should invest in. Joining an investment club is a good place to start. Or starting one if you can't find one to join! Here's what to look for in a club and what you should know about starting one.
Common knowledge
The first thing you want to find in an investment club is a resource of knowledge. You're joining because you don't know much. If the club is through school, hopefully, the teacher leading the club has some knowledge to share.
If you have people from different grades, hopefully, the people who have been in the club longer will be able to share what they've learned over the years.
Another place to look for knowledge is outside sources. That could be watching videos from well-known investors. Or you could bring in people from your community who have a background in investing. You can always email your credit union and see if there is anyone there that could come and talk to your club.
Practice what you know
The whole point of learning about investing is to invest, taking the knowledge you're gaining and putting it into practice.
As mentioned before, one way to do this is to play the investment game: invest pretend money and track the results.
Another way is to watch movies that deal with investing. Are the actors following good advice? What are they doing wrong?
Make it real
If your parents want to help, you can start using an app to make small trades. One option as a club is for everyone to chip in a small amount or to hold a fundraiser to raise seed money. Whatever money you make through your investments then gets donated to a non-profit of your choosing.
The thing you need to take into account when you're working with actual money is taxes. So unless you have a very experienced investor consulting with your club, you may want to stick to learning and practicing with fake money.
In the end
Remember that if you're using real money, there are very real consequences. Don't invest actual money unless you have someone helping you and that person knows what they are doing.
The goal of joining or starting an investment club at school isn't to become rich over night. The chances of that happening are low. What you can do is learn and grow so that when you are in a position to invest, you know what you're doing and how to make it profitable for yourself.